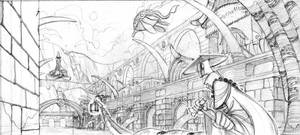 This is the pencil sketch for my 2 point perspective assignment at the AAU. I was somehow inspired by the Avatar: The Last Airbender World.
I'm not gonna post the finished version with light and shadow, instead, I'm gonna put it into my next artbook/sketchbook, as long as many of my art and sketches that you're not gonna see online.
So if you're interested, wait for when I put together the book and publish it.
And in the mean time, check out these links for information on my 2011 artbook that I'm publishing on blurb.com.
If you find it too expensive and not gonna purchase it, please take a little time and tell your friends about it, I'll appreciate that a lot. (It's in printed price, I don't get any profit from it)
http://www.deviantart.com/users/outgoing?https://splendidriver.wordpress.com/2012/03/11/2011-artbook-preview/
http://www.deviantart.com/users/outgoing?http://www.facebook.com/media/set/?set=a.10150293696659111.355152.533129110&type=3